Maple-infused breakfast recipes to help you start the day right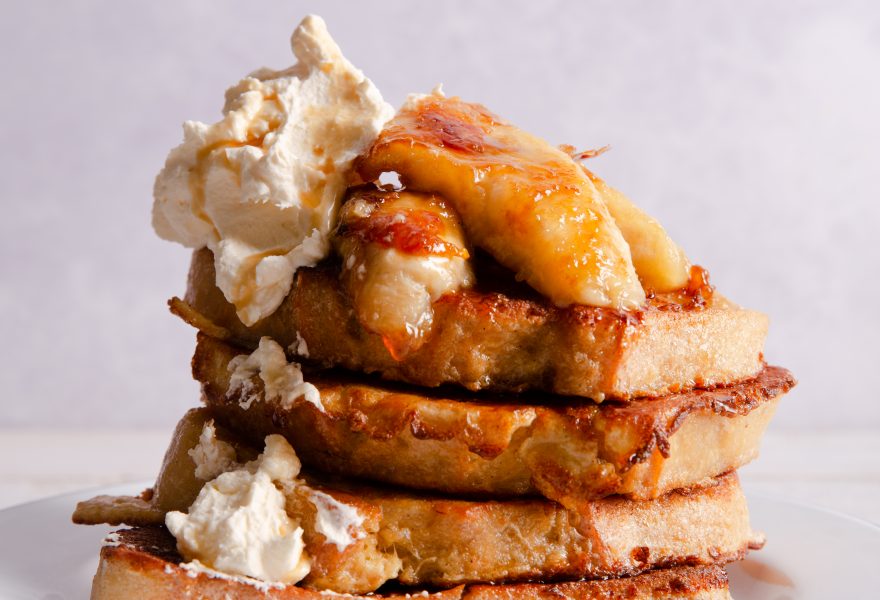 ---
Breakfast has a name for being the most important meal of the day for a reason. After a long sleep your body's glycogen stores are low, so eating breakfast boosts your glycogen levels to keep your energy up throughout the day. Without this boost you may feel sluggish, tired, and unable to concentrate. Breakfast ensures you have the right number of essential vitamins, minerals, and nutrients to keep your body thriving mentally and physically throughout the day.
As well as all the science behind breakfast, we also just want something delicious to eat in the morning, which is where maple syrup can come in to sweeten your breakfast choices. We have put together some recommendations for our favourite maple-infused recipes:
Breakfast or brunch? You choose…
If you're looking for a sugar rush to get you going in the morning, then some maple and vanilla French toast with caramelised bananas is right up your street. Super quick and super sweet, this recipe only takes ten minutes to prepare and five minutes to cook, so you can be sitting down and enjoying your breakfast within fifteen minutes. And if you haven't tried maple sugar caramelised banana before, beware because it can become dangerously moreish.
For those of you who prefer a savoury dish for breakfast, our sweet potato pancakes with smoked salmon and a maple syrup and soy glaze is a delicious balanced breakfast. You may be thinking, 'sweet potato pancakes? Really?' but don't knock them until you try them. They are a labour of love, taking longer to make than regular pancakes, but we cannot recommend them enough, especially with a dash of maple syrup.
Again, if you are more of a full English than a pancakes for breakfast person, then treat yourself by replacing your regular hash browns with our potato, bacon, and maple röstis. Or if you're looking for a lighter option, pair with a runny poached egg on top. They are a scrumptious mix of sweet and savoury, including the classic pairing of maple syrup and bacon.
Vegan breakfast
As maple syrup is vegan, it is easy to incorporate it into any vegan breakfast recipe. Our favourite is our chef ambassador, David Colcombe's maple vegan pancakes. They are dairy-free and are just as fluffy and light as regular pancakes. Don't wait to make these pancakes on Pancake Day, this recipe is too good to make only once a year.
It is also easy to adapt our non-vegan recipes to make them vegan. For example, the potato, bacon, and maple röstis can become vegan by removing the bacon and using vegan cheese instead of cheddar. A vegan breakfast can be just as exciting as our non-vegan breakfast recipes, with just a few tweaks.
Breakfast beverages
Vegetables are often hard to incorporate into breakfasts, however, with our apple, kale and maple smoothie you get a whole load of green goodness that tastes delicious. The smoothie is packed with spinach, kale and apples which can often be quite bitter and sour. But the maple syrup's sweetness helps to counteract these strong flavours to make a healthy and refreshing smoothie.
And finally, can you have a breakfast without your morning coffee? Our maple iced coffee is the perfect caffeine-fuelled treat to accompany any breakfast or brunch throughout the week. Sweeten to your liking with some maple syrup, a natural source of sweetness in comparison the artificial sweeteners we find on shop floors today.
If these recipes have made you interested to find more maple-infused breakfast recipes there click here to browse our selection.
A natural source of energy
Maple syrup is a natural source of energy. Check out our recipes for food and drinks before, during, and after exercise.