Potato, Bacon and Maple Rösti
---
Breakfast and Brunch / Child-Friendly / Hot Breakfast / Picnic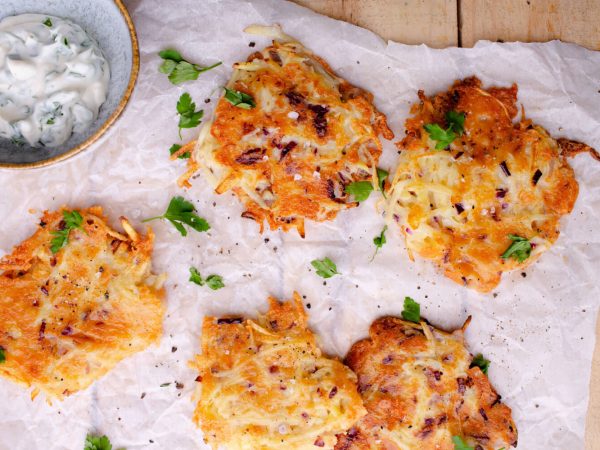 Ingredients
1 tbsp olive oil
6 rashers of streaky bacon, finely chopped
2 tbsp pure maple syrup (preferably dark syrup for its robust taste)
1 red onion, peeled and finely chopped
500g peeled and grated white potatoes
1 tbsp plain flour
1 tsp chilli flakes
150g grated Cheddar cheese
Salt and pepper to taste
Method
Heat oil in a pan and fry bacon over a high heat until crisp. Set bacon aside on a paper towel to drain excess fat
In the same pan, add maple syrup and fry onion until soft
Put grated potatoes into a clean tea towel and wring out the excess water
Transfer to a bowl and stir in flour, chilli flakes, cheese and salt and pepper. Mix well
Shape portions of mixture into balls and flatten down into round potato discs
Reheat pan with extra oil and fry 2 – 3 potato discs at a time until crisp, turning over to cook both sides
Try serving with a chopped parsley and crème fraiche dip for a lunchtime snack
For a vegan option, make the röstis without bacon and use a vegan cheese
Delicious breakfast rösti to start your day the right way! Striking a balance between sweet and savoury, these crispy potato röstis with finely chopped bacon are a true delight. Our rösti recipe also adds pure maple syrup for an added touch of sweetness.
The Quebec Maple Syrup Producers are not in any way responsible for the identification or presence of allergens in recipes or for the classification of any recipe as vegetarian or vegan.
Hundreds of Delicious Recipes
Maple is a special addition to any recipe, from starters and snacks to sumptuous desserts. Find one that's perfect for you, your family and friends.