William Curley's Maple Mince Pie Truffles
---
Christmas / Ambassador / Desserts / Desserts / Sweet Treats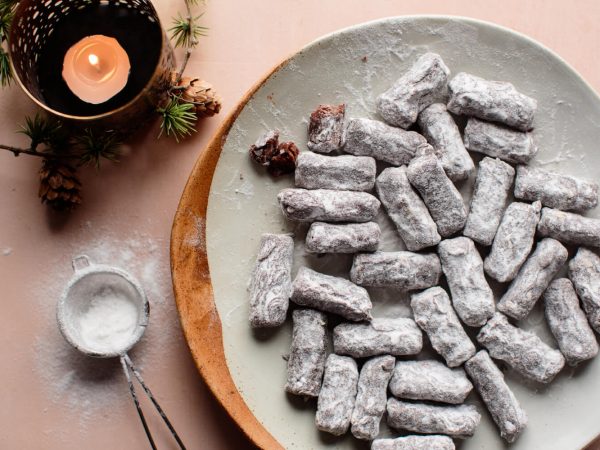 Ingredients
For the ganache:
½ stick cinnamon
1g grated nutmeg
2g fresh ginger
200g infused cream
250g Amedei Toscano 70% dark chocolate (chopped)
40g pure Canadian maple syrup (preferably dark syrup for its robust taste)
40g unsalted butter
For the coating:
400g dark chocolate
250g Neige Décor
Method
Wash the raisins and place in a container with the rum. Allow to soak for 24 hours then roughly chop
In a saucepan bring cream to the boil then add the spices. Remove from the heat, cover and leave to infuse for 1 hour
Strain the infused cream into a clean saucepan, add the maple syrup and bring to the boil
Put the chopped chocolate in a bowl. Pour the boiled cream over the chocolate and mix until emulsified and a ganache is formed
Add the softened butter and mix
Mix the soaked raisins with the ganache. Leave to set at room temperature for 30 minutes
Add mixture to a piping bag and pipe logs onto a tray. Allow to set at room temperature for 15 minutes
To make the coating:
Finely chop the chocolate and set one quarter aside
Slowly melt the remaining chocolate in a glass bowl over a saucepan of hot water, stirring regularly. Ensure the water doesn't boil or touch the bowl
When the chocolate reaches 50C remove from the heat and set one third aside in a warm place
Add the remaining chocolate to the mixture and stir continuously until it cools to 28C-29C
Add the remaining third of the melted chocolate and gently warm back up, continuously stirring until the temperature is 31C-32C
Coat each truffle in chocolate, roll in the Neige Décor, allow to set then roll again in Neige Décor
If you're looking for an indulgent Christmas treat these maple mince pie truffles from chocolatier William Curley are perfect.
The Quebec Maple Syrup Producers are not in any way responsible for the identification or presence of allergens in recipes or for the classification of any recipe as vegetarian or vegan.
Hundreds of Delicious Recipes
Maple is a special addition to any recipe, from starters and snacks to sumptuous desserts. Find one that's perfect for you, your family and friends.