Sticky maple BBQ pork ribs
---
BBQ / Mains / Pork / Summer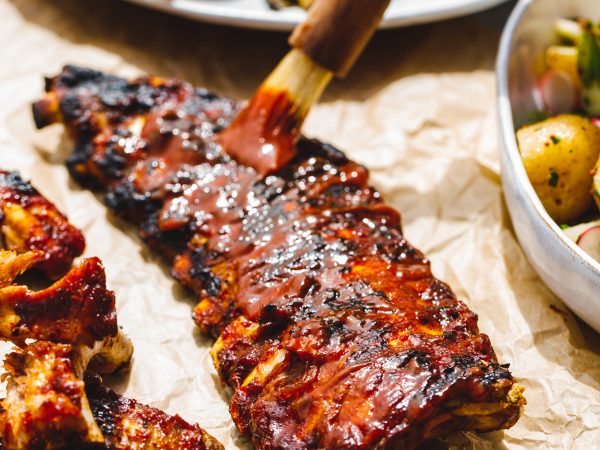 Ingredients
500ml (2 cups) hot water
2 pork rib racks
1/2 cup tomato sauce
1/4 cup Worcestershire sauce
2 tablespoons maple syrup
2 tablespoons apple cider vinegar
1 tablespoon Dijon mustard
3 teaspoons smoked paprika
1 teaspoon dried oregano leaves
1 teaspoon ground cumin
Method
Pre-heat the BBQ.
To make the glaze, stir tomato sauce, Worcestershire sauce, maple syrup, apple cider vinegar, Dijon mustard, smoked paprika, dried oregano leaves and ground cumin together in a saucepan. Cook on a low heat for 3 minutes then increase heat and simmer until thick.
Combine the water and 2 tablespoons of the glaze in a bowl. Lay the ribs on a baking tray, coat with the glaze and cover with foil. Bake in the oven for 2 hours at 180C.
Remove the ribs from the oven and coat with the remaining glaze.
Transfer the ribs to the BBQ and grill for 4-5 minutes each side or until caramelised.
Remove from the BBQ, set aside and cover with foil for 2-3 minutes to rest before serving.
Nothing beats sticky ribs on a hot summer's day and this recipe will be a sure-fire hit with BBQ guests.
The Quebec Maple Syrup Producers are not in any way responsible for the identification or presence of allergens in recipes or for the classification of any recipe as vegetarian or vegan.
Hundreds of Delicious Recipes
Maple is a special addition to any recipe, from starters and snacks to sumptuous desserts. Find one that's perfect for you, your family and friends.