Chicken, Bacon, and Pea Penne with Maple
---
Mains / Chicken / Child-friendly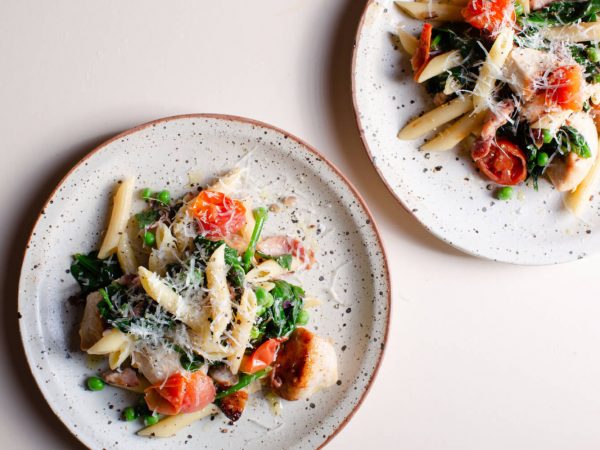 Ingredients
500g penne pasta
600g chicken breast, cut into chunks
8 rashers of smoked bacon, diced
1 red onion, finely sliced
400g baby spinach, washed
150g peas (frozen or tinned garden peas)
Handful of cherry tomatoes, halved
150g grated parmesan
For the maple dressing:
3 tbsp olive oil
1 tbsp maple vinegar, or cider vinegar
1 tbsp pure maple syrup (preferably golden colour for its delicate flavour)
1⁄2 lemon, juiced and zested
Method
Bring a medium-sized pan of water to boil and season with salt
In a separate pan, fry the chicken until the juices run clear. Then add the bacon and red onion and continue to cook for a further 5 minutes
Add the cherry tomatoes and peas and stir together
Cook the penne pasta in boiling water for 9 – 11 minutes. Drain and add the pasta to the chicken
Remove from heat and add spinach to wilt. Season with salt and pepper
Top with zested lemon and grated parmesan
To make the dressing:
Combine the olive oil, maple vinegar, maple syrup and lemon juice in a bowl and pour over pasta
Stir together to combine and serve
Elevate your pasta with a dash of maple syrup. The smoked bacon works particularly well with the sweetness of the maple.
The Quebec Maple Syrup Producers are not in any way responsible for the identification or presence of allergens in recipes or for the classification of any recipe as vegetarian or vegan.
Hundreds of Delicious Recipes
Maple is a special addition to any recipe, from starters and snacks to sumptuous desserts. Find one that's perfect for you, your family and friends.