Mushroom bourguignon with cheddar and maple scones
---
Vegetarian Mains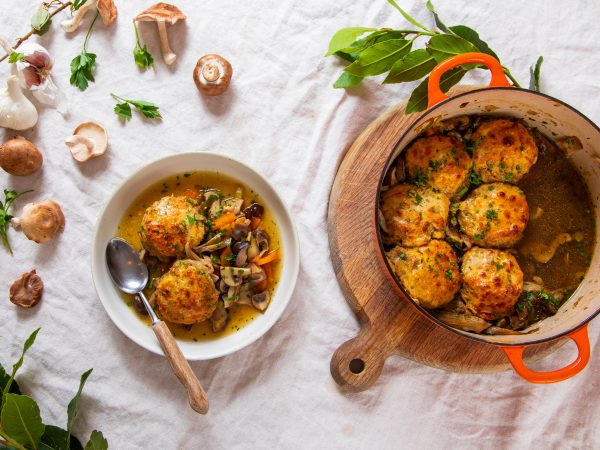 Ingredients
For the mushroom bourguignon:
2 tbsp olive oil
1 kilo mixed mushrooms (flat, cap, brown, field, morelles, girolles, Portobello), roughly chopped, hand torn (leave chunky)
4 large carrots, peeled and diced
2 white onions, diced
2 cloves garlic, finely chopped
1 litre vegetable stock (2 stock cubes)
Handful of fresh thyme
Salt and pepper, to taste
For the cheddar and maple syrup scones:
140g self-raising flour
100g wholemeal self-raising flour
1 tsp salt
100g grated Cheddar, plus extra for topping
1 tbsp pure Canadian maple syrup
175ml whole milk
1 egg, beaten
Handful of chopped parsley
Method
To make the bourguignon:
Preheat your oven to 200C.
In a large pan, heat the oil and add the carrots, onion and garlic and sweat for about five minutes. Add the mushrooms and season with salt and pepper, then cook together until the mushrooms start to brown.
Pour in the vegetable stock and stir.  Bring to the boil and gently simmer for about 20 minutes or until excess water has reduced.
Transfer the mix to a deep oven-proof dish, spread out in an even layer and set aside.
To make the scones:
In a mixing bowl, sieve the flour and salt together and add 100g of cheese. Make a well in the middle and slowly add the milk and maple syrup.
Bring the wet and dry ingredients together using your hands to form a ball of dough.
Turn out the dough onto a floured surface and roll into a circle about 2cm/1in thick. Using a pastry cutter or  or fluted scone cutter, cut out discs. Re-use the dough to make more until all of the pastry has been used up.
Gently lay each pastry piece on top of the mushroom bourguignon mix, with a 1cm gap between each piece.
Place in the oven and cook for about 20-25 minutes until the scones rise and fuse together during baking.
Remove from the oven and brush each scone with beaten egg, sprinkle over the remaining grated cheese and chopped parsley.
Continue to bake or place under the grill until golden brown.
Comforting and warming, this meat-free take on a French classic is perfect for the whole family.
The Quebec Maple Syrup Producers are not in any way responsible for the identification or presence of allergens in recipes or for the classification of any recipe as vegetarian or vegan.
Hundreds of Delicious Recipes
Maple is a special addition to any recipe, from starters and snacks to sumptuous desserts. Find one that's perfect for you, your family and friends.